These are the easter eggs in the Slendytubbies series.
A voice trumpet can be found in the south mountains playing a cover of the song "What's Up" by 4 Non Blondes. This is a reference to a video called "HEYYEYAAEYAAAEYAEYAA" (which is a scene from the video "Fabulous Secret Powers" by slackcircus).
Rick Astley
If the player goes left from the spawn point, and climb up the mountains, they'll find a dancing Rick Astley while his popular song "Never Gonna give You Up" plays in a loop.
Tinky Tank
There are some growls that can be heard randomly. When these growls are sped up, you can hear a voice saying any of these quotes:
A dancing Rick Astley can also be found here hiding behind a filter. The music is not playing.
The ambiance is actually Dipsy who is possibly talking to the player.
Messages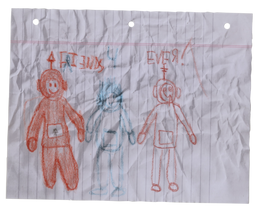 Key Card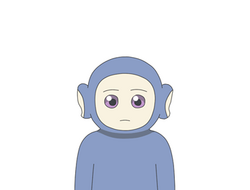 When the player find the key-card of one of the engineers, and then look closely to it before pick it up, it can see informations:

The Engineer's ID Picture and Name "Tobby"
His date of birth, which is 97/3/31, The day when the Teletubbies were released
Sprites
In the Chapter 2- "The Journey" behind a cave column as soon as it starts are sprites of Sean, and Santikun.
The very same sprites can be found in the "container maze" in the Military Outpost map, and in the chair of the Secret Lair in "Chapter 1- A New Day".

In addition, a sprite of the maps' creator LeyAM can be found hidden behind the barrels inside a red container at the back side exit of the map.
Main Menu
On the desertic area, an "STIII" can be seen on the ground. This was a secret teaser about Slendytubbies III.
Since the Update 1.5 and on the same area, a meme of the community known as Thicc Noo Noo appears.