Laa-Laa's Dream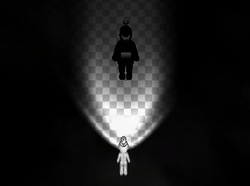 Informations
Laa-Laa's Dream is a map in Slendytubbies 2D. It's a large map.
Description
Edit
This is a really empty place, with nothing than a black and white checkered floor. The rest is just a dark empty.
Shadow Tubby is the monster that inhabits this place.
The ambience is composed of laughs and strange noises.
In the demo of Slendytubbies III, Laa-Laa talks to Po about a bad dream. It is possible for this to be the bad dream Laa-Laa had, but with Laa-Laa instead of the White Tubby.
This place is for sure the darkest place of the saga.
Locations
Slendytubbies
Slendytubbies II
Slendytubbies 2D
Slendytubbies III
Others
Ad blocker interference detected!
Wikia is a free-to-use site that makes money from advertising. We have a modified experience for viewers using ad blockers

Wikia is not accessible if you've made further modifications. Remove the custom ad blocker rule(s) and the page will load as expected.